janine atkinson
United Reformed Church Minister
I came to join the team as Minister at Longcauseway Church in August 2015 and I divide my time between the 5 Churches in the SPACE Group of Churches. Before training to be a Minister I worked for many years as a Church Community Worker, and in the voluntary, charity and community sector, as well as a networking role within the South Western Synod of the United Reformed Church as Synod Pastoral Advisor.  I'm enthusiastic about Longcauseway's work of sharing faith, hope and love in the heart of Dewsbury and for enabling people to find ways to encounter God through Jesus Christ in ways that are creative and inclusive of all.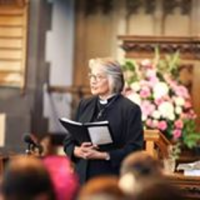 These are the people who work tirelessly to ensure Longcauseway Church is running smoothly.
Rebecca Thornton
Church publicity officer/ lettings manager
My role at Longcauseway is more so a purpose than a job. I am passionate about promoting God's Love in every capacity and I feel that my role here provides a platform for me and the church to do just that.
I manage all areas of the Church's marketing along with management of room hire.
"Faith comes by hearing and hearing by the word of God"
ROMANS 10:17